The estate is situated at the southernmost-edge of Chianti Classico in the butterfly-shaped commune of Castelnuovo Berardenga, closest in proximity to Siena, Italy.
The estate is 1,000 total hectares (2,500 acres) of which 90 hectares (220 acres) are planted to vines – the remaining land is preserved for native vegetation including 50 hectares (125 acres) of olive orchards. Separated into 63 distinct vineyard blocks, the vineyards are planted to 50% Sangiovese and 50% international varieties such as Cabernet Franc, Merlot, and Cabernet Sauvignon. The ancient walled town of San Gusmè, provides a breathtaking backdrop for the vineyards of Tenuta di Arceno.
Chianti Classico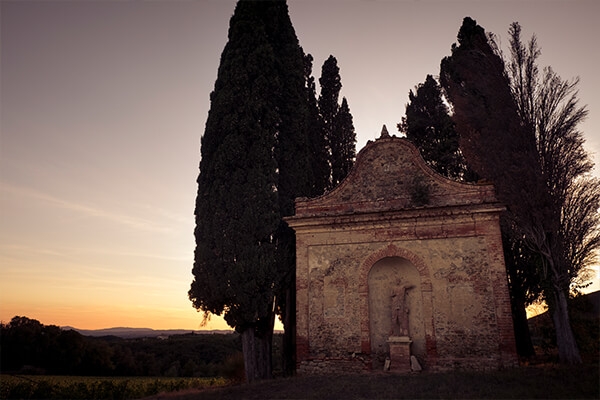 Tenuta di Arceno
This is an immensely modern and monumental wine…

MONICA LARNER, ROBERT PARKER'S WINE ADVOCATE, OCTOBER 2013
Found within the commune of Castelnuovo Berardenga in the province of Siena, Tuscany, the Tenuta di Arceno estate features 10 mesoclimates and a multitude of soil profiles that impart unique complexity, flavors, and structure to our Italian wine portfolio. In addition to its Chianti Classico DOCG range, the estate produces three premium Toscana IGT wines: the flagship Cabernet Franc-led blend, Arcanum; a Merlot-based blend, Valadorna; and a blend of international varieties, il fauno di Arcanum. Cabernet Franc and Merlot are well-suited to the estate's diverse soils and topography and are signatures of the estate, which traces its roots to the pre-Roman Etruscan civilization.