Maggy Hawk Collection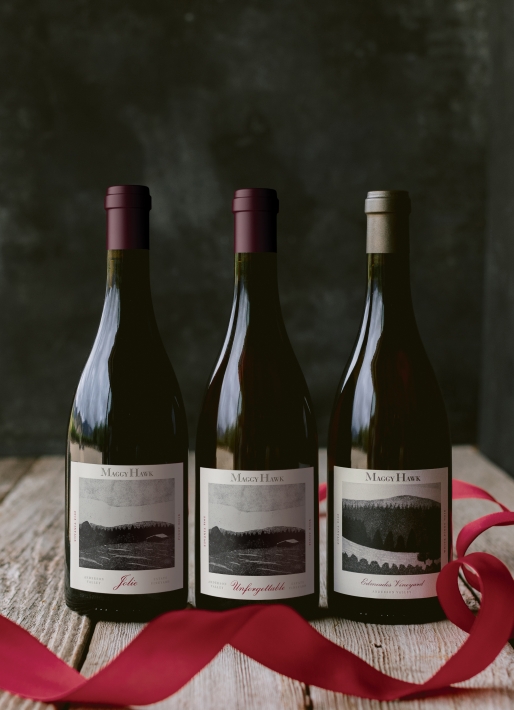 Maggy Hawk Collection
3-Bottle Gift Set
Gift set includes shipping and a VIP tasting certificate at The Spire Collection Estate.
2018 Maggy Hawk Edmeades Vineyard White Pinot Noir
Sleek, fresh and weighty. Our 2018 Edmeades Vineyard White Pinot Noir delivers white peach, candied ginger, Asian pear, and quince aromas. You'll find a weighty, silky texture, followed by lively acidity that runs through the center of the palate, highlighting notes of pear, apricot and honey fl­avors.  This unique wine offers an entirely original and truly beautiful sensory experience.
2018 Maggy Hawk Jolie Anderson Valley Pinot Noir
Expressive, silky, and refined. Jolie opens with fresh aromas of red cherry, currants, tart strawberry and dried rose petals.  The palate echoes the light red fruit aromas with an incredibly juicy texture upfront that is highlighted by balanced acidity and very subtle tannins that frame the edges.
2018 Maggy Hawk Unforgettable Anderson Valley Pinot Noir
Freshness, power   and   persistence. Unforgettable offers up a delightful balance of jammy blackberry, boysenberry and blueberry with lively aromas of violets, lilac and pennyroyal.  This unique blend of blocks delivers elegance and power with sweet spice flavors, broad texture across the palate and a pleasantly long ­finish.